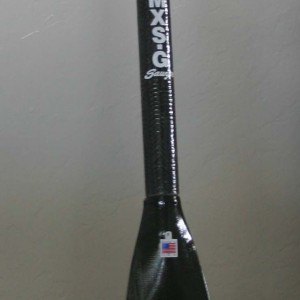 Sawyer MXSG Oar w/ Dynelite Blade
Developed to offer the best combination of lightness and strength, The Sawyer
MXS-G is the ultimate oar for the enthusiast through whitewater professional.
Longitudinal fiberglass mixed with graphite braid offers a unique torsional energy return system; the more flex put to the shaft, the tighter the braid gets, the tighter the braid gets the more stable the longitudinal fibers. Combine the MXS-G shaft and Dynelite blades and you have the finest oar available. Made in the U.S.A.