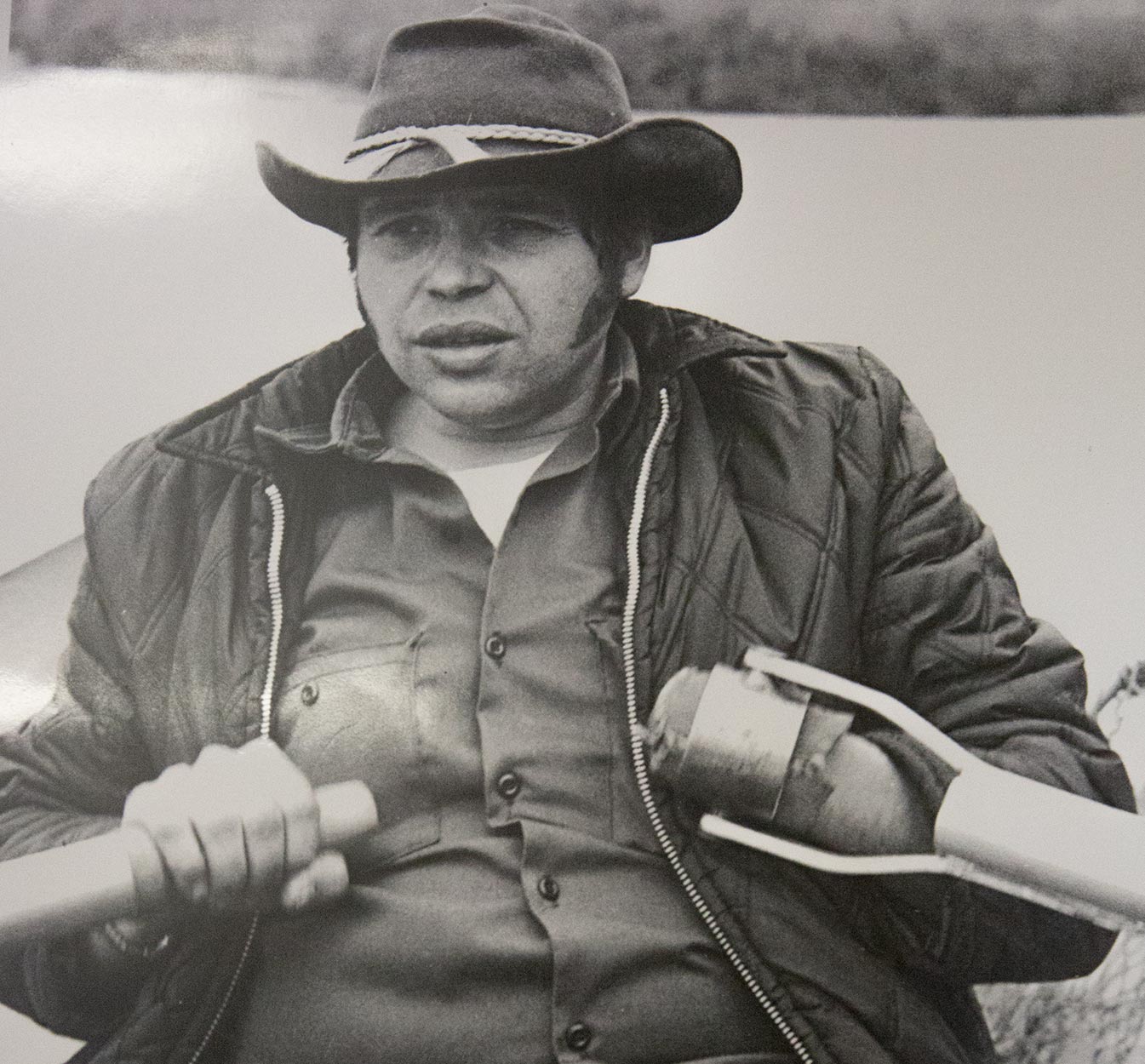 It is believed that Willie Illingworth manufactured the first aluminum version of the McKenzie River Drift Boat. Before Willie, drift boats were exclusively made of wood. In 1971, after unsuccessfully trying to get numerous boat manufacturers to build his dream aluminum drift boat, Willie decided to go at it himself. He would create a boat that would be great in whitewater, row easily, and stand the test of time.
Forget the fact that Willie didn't know how to weld. Never mind that at the age of 6, a blasting cap had relieved Willie of his left hand. He was a man who knew what he wanted. Against much advice, he created an aluminum drift boat that is now a standard in the world of small river fishing, from Alaska to New York.
In his first year, Willie built about 20 drift boats privately before starting Alumaweld Boats in 1972. However, after five years of drift boat production, Willie decided to sell Alumaweld Boats and move on to something new. Thus began Willie R & D in 1977. Because of a no-compete clause signed with Alumaweld Boats, Willie temporarily shifted to building and selling whitewater rafting frames and portable kitchens.
When the no-compete expired in 1981, Willie again turned his attention to building drift boats. Members of the fishing community eagerly lined up to get their own Willie-built drift boat, and "Willie Boats" continued to grow. In 1984, he hired Jim Bittle, who would later become the president of the company. By 1986, "Willie Boats" was formally incorporated, with a clear path and exciting future, in the world of boat manufacturing.
Drift Boats remained at the core of Willie Illingsworth's identity, but current customers began asking for a better power boat. Finally, in 1987, they came, beginning with the construction of the Willie Flat Bottom which was configured with outboards and inboard power. Many of these boats stayed in the NW, but boats were also purchased and shipped to the Kenai River in Alaska. Soon after, Buzz Ramsey had Willie Boats build a 21' Silver Bullet, with a 5 foot bottom and inboard jet. In the same year, the legendary Predator first came off the line, shaking up the boating world with its great performance and beautiful lines. This 20', 10 degree boat built for Harold Reynolds offered fishermen comfort and flexibility never before possible. This boat has held its own for many years, and is still a popular build choice for today's Willie Boats customers.
Rapid growth called for a change in location. In 1988, Willie Boats moved from the Skypark Drive location in Medford to its current location on Justice Road in Central Point. The Willie Boats family continued to expand its lineup:
In 1991, the Asaltor joined the scene, offering a big water hull design that immediately became popular with coastal communities in the West.
2004 brought the variable degree dead rise, introduced by the Willie Raptor. Known today as Willie Boats' most versatile hull, the Raptor is as comfortable in whitewater as it is with the ocean swell.
The Legend, Willie Boats' newest version of the flat bottom sled, was introduced in 2005. This shallow running boat with tunnel hull capabilities is even a candidate for rowing.
Sadly, also in 2005, Willie Illingworth was diagnosed with cancer. He fought the disease for nearly two years before succumbing on March 27, 2007. Prior to Willie's death, ownership of Willie Boats was transferred to longtime employee Jim Bittle, who works as the President of Willie Boats today. Just before his passing, Willie hosted a wake for hundreds of his closest friends and customers. At the wake, in a fashion that only Willie Illingworth could pull off, Willie suggested that his soon-to-be-created ashes would be divided up into vials and distributed to wake attendees, so that they could take him fishing. Willie's passion for life and undying love for fishing is the legacy at the core of who Willie Boats is today.
That same year, the tradition continued, with an introduction of the Willie Classic to the Kenai River for Gary and Val Early. The boat was designed for comfort and speed within the horsepower restrictions that are required on the Kenai. Today, the Classic is the preferred boat on this famous river.
2007 also saw the introduction of the 5 degree Predator, a variation of the popular 10 degree Predator, offering serious shallow water capabilities and tracking, in a boat that is also comfortable in bays and larger rivers.
In 2012, the variable degree Fuzion was born, combining the great performance properties of the 10 and 5 degree Predators to create the finest performing shallow water boat on the market.
The Reaper, another 2012 addition, offered an aggressive 29 degree entry and 17 degrees at the transom, designed for big rivers, bays, and the open ocean.
In 2013, guide and lodge owner Jerre Munson took delivery of the first Nemesis. The Nemesis represents Willie Boats' passion for continued improvement in hull designs, and has been a hit with open water fishermen. The Nemesis is led by a 32 degree bow that transitions to a 20 degree entry and finishes with an 8 degree transom. This variable degree design cuts big chop, flies out of the hole, and is incredibly stable while fishing.
Today, Willie Boats is considered the #1 aluminum boat builder in the West, known for its brand, custom construction, quality, and resale value. Willie Boats will continue to move forward with Willie's philosophy of continued improvement and passion for quality. For years to come, it is our hope that customers will continue to say that Willie Boats is "Simply the Best."
If you are interested in owning the best welded aluminum boat on the market, please feel free to contact us at inquiry@willieboats.com or call 541.779.4141. We'd be happy to welcome you into the Willie Boats family.