Fuzion
[image]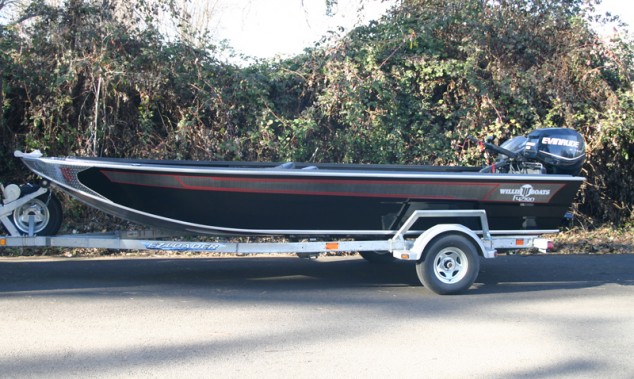 [/image]
With the Fuzion we have taken two models of our existing boats (10° and 5° Predator) and combined them to come up with the newest shallow river running hull available.
[list style="style1″]
It has a 10° entry that transitions to a 5° transom.
Also comes with an option for a Tunnel Hull for ultimate shallow water performance.
[/list]
[tabs]
[tab title="Standard Features"] [raw]

[list style="style1″ line="yes"]
8″ Cowling with Gunnel Guard
27″ x .125 Sides
.190 Bottom
Built-In Bow Fish Box
Bow Anchor Release
Marine Vinyl Flooring
[/list]

[list style="style1″ line="yes"]
High Gloss Epoxy Interior Coating
Deluxe Running Lights
Bilge Pump
Transducer Brackets
Weld On Zinc Tab
Above or Under Floor Fuel Tank
[/list]

[button title="View All Powerboat Accessories" link="https://willieboats.com/power-boat-accessories/ " description="View all Powerboat Add-ons and Accessories" width="610px" bgcolor="#CCCCCC" color="#CC0000″ picture="" height="" version="light" position="left"]
[/raw] [/tab]
[tab title="Gallery"] [raw]
[/raw][/tab]
[tab title="Pricing"] [raw]
[frame]
[box-title align="center"]
Willie Boats "Fuzion"
[/list]
[button title="Download Add-On Pricing Sheet" link="https://willieboats.com/wp-content/uploads/2014/04/Fuzion.pdf" description="Add-on and pricing tables for the Willie Boats Fuzion"
width="100%" version="light" position="" bgcolor="#b80008″ color="#FFFFFF"]
[/frame]
[/raw] [/tab]
[tab title="Specifications"] [raw]
| | | | | | | | | |
| --- | --- | --- | --- | --- | --- | --- | --- | --- |
| Model | Length | Bottom Width | Center Length | Beam | Side Height | Bottom Thickness | Max H.P. | Approx Weight |
| Open | 20′ | 72″ | 20′ | 102″ | 27″ | .190 | 250 | 1020 |
| Open | 21′ | 78″ | 21′ | 102″ | 27″ | .190 | 250 | 1130 |
| Open | 21′ | 84″ | 21′ | 102″ | 27″ | .190 | 250 | 1250 |
| Open | 22'6″ | 84″ | 22'6″ | 102″ | 27″ | .190 | 250 | 1525 |
| Open | 24′ | 84″ | 24′ | 102″ | 27″ | .190 | 250 | 1675 |
[/raw][/tab]
[/tabs]