Willie Boats
Custom Aluminum Boats
Willie Boats was started by drift boat designer Willie Illingworth, an innovator in the drift boat industry. Prior to Willie Boats, Willie had quite the history perfecting the first aluminum drift boats. In 1971 Willie spent three months building the very first aluminum McKenzie-style drift boat, wanting to build a boat that would be lighter and easier handling than the older style wooden drift boats. Willie was thrilled launching it and finding the maneuverability was excellent.
Willie continued building aluminum drift boats and perfecting the design and soon was selling them under the name of Alumaweld Boats. Willie sold his share of Alumaweld in 1977 and waited four years to begin the business that is known today as Willie Boats, which was opened in 1981. Willie Boats is located on 1440 Justice Road in Central Point, Oregon. Today, the company builds around 250 drift boats a year and close to 100 power boats. To ensure that each customer receives the best service Willie Boats is factory direct only and does not have any dealers.
[tabs]
[tab title="Drift Boats"]
[image]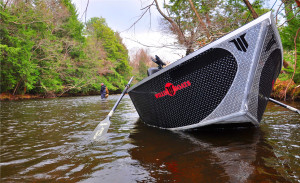 [/image]For a fantastic rowing experience, look no further than a Willie Drift Boat. From 12′ to 20′ we have models to fit every individual's needs, not to mention some top notch features that include: Specially designed thicker chine, with a lip that allows the boat to track better, allowing for ultimate control while maneuvering. A slight perpendicular curve built into the point of the bow, to keep you drier while plunging through the roughest white water. The modified McKenzie design with a combination of a sharper rake and a painstakingly crafted upsweep of bottom fore and aft with precisely flared sides.
Standard Equipment: A standard row seat with row seat web, side trays, front bench seat, diamond plate flooring, PPG epoxy interior coating, three cup holders, top single bow eye, lower double bow eye, transom eye, top front deck, and lower front deck on all models except the Lil' Willie.
[/tab]
[tab title="Power Boats"] [raw]
[image]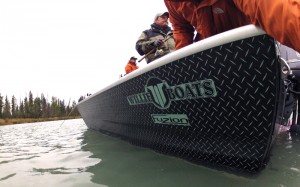 [/image]At Willie Boats we build several different models to meet each outdoorsmens' needs. If you are unsure about the best hull for your needs, please feel free to call and we can answer any questions for you, 1-800-866-7775, or e-mail inquiry@willieboats.com. For more information on how our power boats have performed take a look at our testimonial page. Fishing guides share their experience with Willie Boat equipment and service.
Classic A 10° entry transitioning to a variable radius hull finishing with a flat bottom design at the transom.
Legend The ideal flat bottom with pointed bow to help cut through chop, the shallowest running hull available.
Nemesis The perfect hull for big open water to be used with a prop 20° forebow and a 8° transom.
Predator Built in a 5° or 10°, this is the ideal river running sled.
Raptor The most versatile hull, with a 24° forebow, a 15° entry and a 10° transom.
Fuzion The newest Weapon in the fleet, a 10° entry transitioning to a 5° transom.
Reaper With a pillow soft ride the Reaper is a great choice for big water useage, with a unique all-welded variable deadrise hull
[/raw] [/tab]
[tab title="Accessories"] [raw]
[image]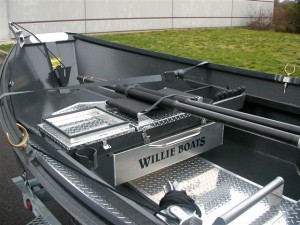 [/image]
The options to trick out your new Willie Boat are endless. Choose from a variety of flooring options, paint designs, fish boxes, diamond plating and much more. Click here to view our drift boat accessories and price list, click here to view our power boat accessories list.
[/raw] [/tab]
[/tabs]